WHERE AUSTRALIA'S SPORTING ELITE GO FOR FRAMING!
PRESENTATION AND PROTECTION.
These are the two key aspects in framing your favourite jerseys. We have been lucky enough to have been chosen by a wide range of sports people from all over Australia to frame their items mainly for the presentation and look of the completed frame but also because of the conservation techniques that we use to ensure the longevity of the item. We hand stitch all of our jerseys to ensure the least amount of damage.
Our Graphic Designer can create a custom mat for your jersey to give you that one of a kind and premium feel and with the use of quality framing components like premium mouldings and UV protective glass your item will have the best chance of lasting longer.
Even if you are not in the local area, we can get your frames to you using Pack and Send.
(Freight for a standard sized framed jersey is around $240 to Sydney or Melbourne CBD)
Discount available for bulk orders.
Contact us at jason@ipswichpf.com.au or call 07 3282 2991 to discuss your requirements for your jersey framing.
OPTION 1 – Our starting point, is usually used for lower-value jerseys or for a simple, clean feel.
Basic single-coloured back mat with coloured mat board spacers, normal clear 2mm glass, quality black timber grain frame. Comes ready to hang. Inside frame dimensions 800mm wide x 1000mm high.
(plaques available at extra cost)
$450
OPTION 2 – Sports card design.
Very popular with sports card enthusiasts or for something a little different!
Our in-house Graphic Designer will liaise with you to ensure the perfect design for your frame. Printed on quality photo stock then your jersey is mounted into the cutout.
Normal clear 2mm glass, quality black or white timber grain frame. Comes ready to hang. Inside frame dimensions are 704mm wide x 979mm high. Premium glass options are listed below.
Starting at $840 (depending on the complexity of the graphic design)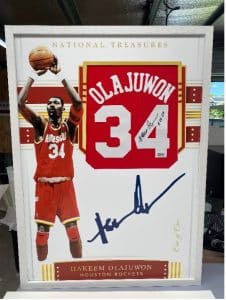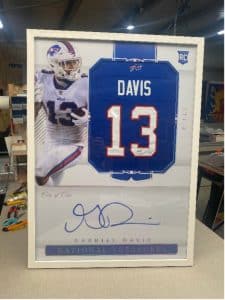 OPTION 3 – Custom Back Mat
EL SUPREMO!
Our most popular jersey framing option is where we turn your jersey into a one-of-a-kind statement piece!
Once again, working with the Graphic Designer to create your perfect frame.
Jerseys are hand stitched on for minimizing any damage to the item.
Normal clear 2mm glass, quality black timber grain frame. Comes ready to hang. Standard frame dimensions are 800mm wide x 1000mm high but other sizes are available depending on your design.
Starting at $790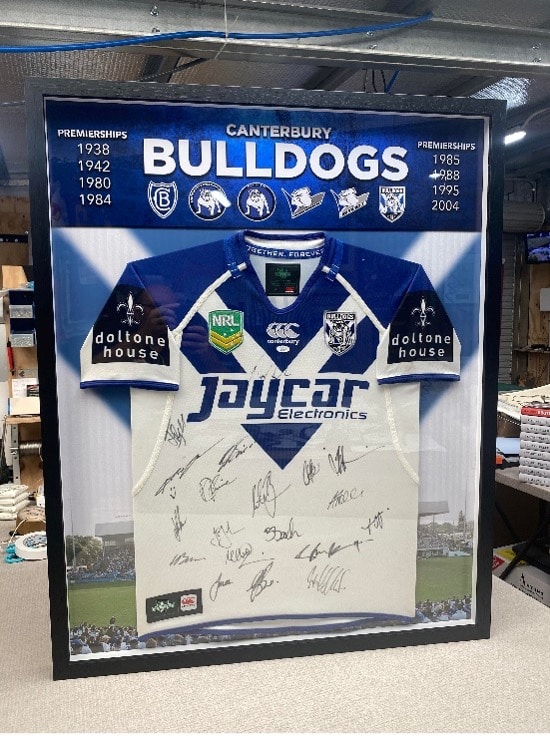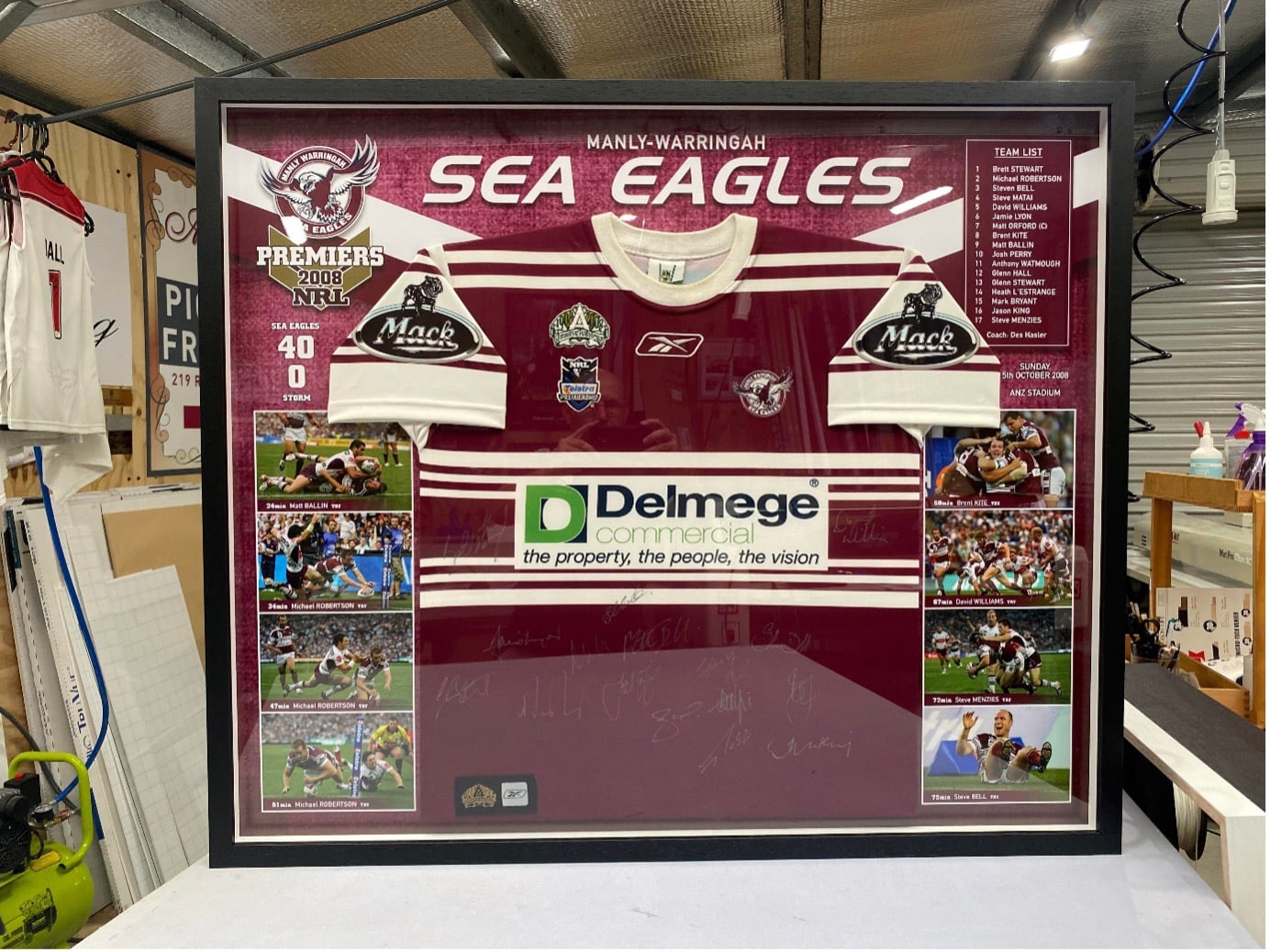 OPTION 4 – Custom Back Mat with Highlights Screen!
Same as Option 3 but includes a 10 inch screen that plays up to a 10min video with sound or up to 500 photos.
Starting at $1600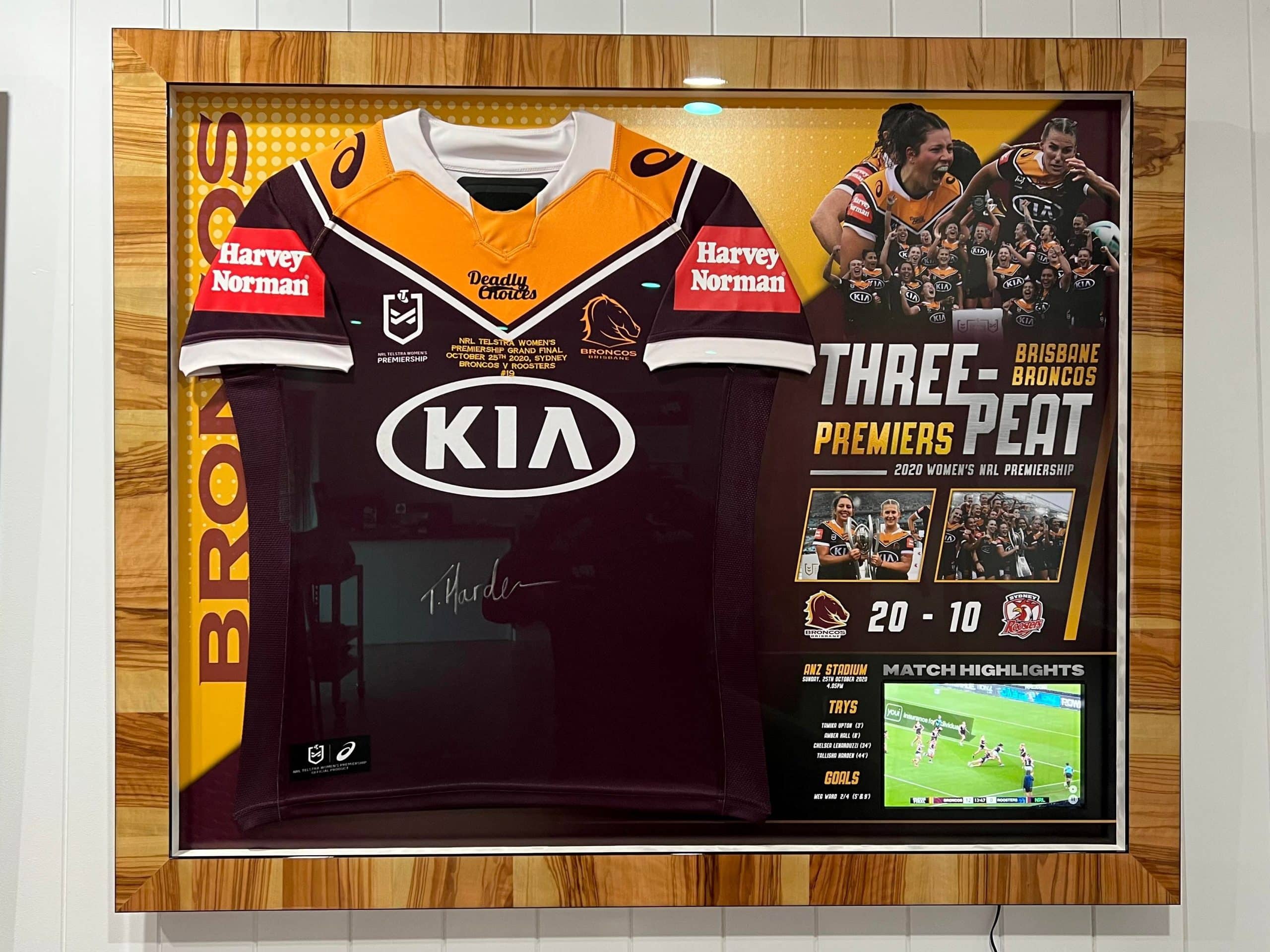 Premium glass options (for standard 800×1000 frame size)
Tru Vue UV 70 (or Art Glass) $199.
This glass has amazing qualities as it appears that there is actually no glass there at all. Also has great non reflective attributes. 70% UV protection.
Tru Vue Conservation Clear. $249.
Looks like normal glass but gives the best protection against UV damage. Strongly advised for expensive or rare items or autographed jerseys. 99% UV protection.